Trick or Treat?
Fall is a beautiful time of year around Anoka, MN (the Halloween Capital of the World). Halloween can be fun here… The familiar fall smell of burning leaves wafting up to our noses through the crisp air, as our feet crunch through the leaves, hot cider in hand. Beautiful colors range from yellow ochre to sunburst, raw sienna orange to Indian red.
For many, they entice much like the rainbow colors of Halloween candy.
So, how can this holiday candy – & the weight gain be avoided?…
Pass on the Candy Bowl
If you normally hand-out candy to trick-or-treaters, ask someone else to take your place. You don't have to miss out. You can still greet all the little ghosts, goblins, monsters and fairies.
————-Just keep your hands off the candy bowl! ———-
(& out of your kids' candy bowl if they trick or treat).
(Take this WebMD quiz "Is your child hooked on sugar?")
Instead of eating left-over candy, set it out on the step for late-night trick-or-treaters.
…if willpower is an issue…
Hand-out non-candy treats like mini boxes of raisins or toothbrushes, as a dentist did in my neighborhood (though some of us avoided thathouse).
…start a new tradition… (Here are some trick-or-treat alternative activities celebrated all over the country on Halloween) 
You could even start a new tradition by replacing the candy-giving with a new activity altogether-
Try switching it up by walking around a spooky, well-decorated neighborhood or walk through a haunted house instead of handing out candy.
If you feel bad about not giving candy, leave an outside light on with a container of candy and a sign saying, "Please Take One." Then Go!
In general, getting active can be a good tactic since it distracts from  cravings for sweets-often we get over it, forget about it just by taking a walk around the block, by calling a friend or reading a book.
Just say "No."
Well-intentioned co-workers bring candy to your cubicle or deliver it to your desk. You can either say "No, thank you" or pass it on to someone else.
Be strong! Try not to take it just to "be nice."
……..If they insist you take it, throw it away.
(Not in your personal trash bin if your willpower is weak…
Don't get caught digging through trash late afternoon, for that mini chocolate bar you threw away earlier).
If you think your cravings are stress-induced, try an activity to de-stress, such as meditation or exercise. Read why, here: http://www.webmd.com/diet/the-facts-about-food-cravings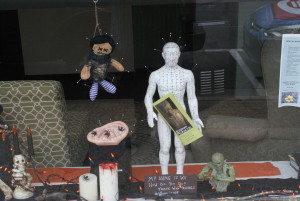 Late night cravings
Eat dried figs or fruit (like an apple) when sugar cravings strike late at night, or anytime really. Figs (2-4) can satisfy sugar craving. Carry them with you in a bag or purse. Add nuts for added protein during the day to avoid eating junk in-between meals.
Be sure to eat enough protein
Protein-rich snacks like pumpkin seeds or walnuts can be a quick and easy snack to pack ahead of time. Sometimes a longer-than anticipated commute can leave us vulnerable to grabbing greasy fast food. Staying late at the office can lead us to order a pizza.
Drink Water
Try drinking a glass of water the next time you are hungry. Often thirst feels like hunger, leading one to crave sugar.
Re-cap on tricks to avoid treats:
Avoid exposure to candy on Halloween
Say "No"
Do more activities that De-stress
Figs for sugar cravings
Eat enough Protein
Distraction
Physical Activity
Drink Water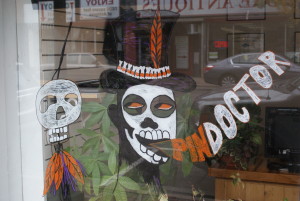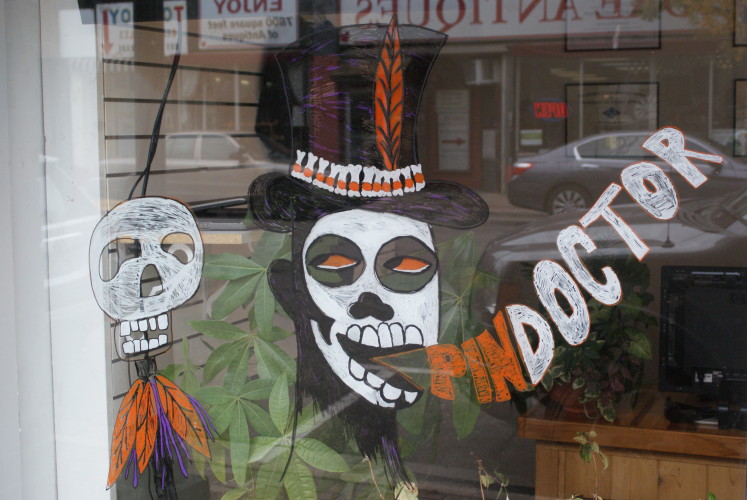 Further reading:
Written by A Ackerman, Lac.
Ackerman Acupuncture in Blaine specializes in helping you with your diet using Traditional Chinese Medicine food therapy and acupuncture. We are available for your weight loss needs.
To see more blog posts like this visit https://www.ackermanacupuncture.com/blog.html
Call today to make an appointment at 763-477-1338
Visit the website at https://www.ackermanacupuncture.com/
DISCLAIMER
This article is not intended to replace any health care.
No information on this site should be relied on to determine medical diagnosis or treatment for a medical condition. As with any health concerns, always be sure to consult your health care provider with any health concerns.
https://www.ackermanacupuncture.com/wp-content/uploads/2017/11/DSC00246-747x500.jpg
500
747
MacKenzie Anderson
https://www.ackermanacupuncture.com/wp-content/uploads/2019/12/Ackerman-Acupuncture-Massage-Logo.png
MacKenzie Anderson
2015-10-19 23:12:57
2018-07-06 20:15:11
5 Tricks to Avoid Treats (in Blaine Acupuncture Pain Therapy Clinic)