Calf Pain Relief at Ackerman Acupuncture & Massage   (in Blaine, MN)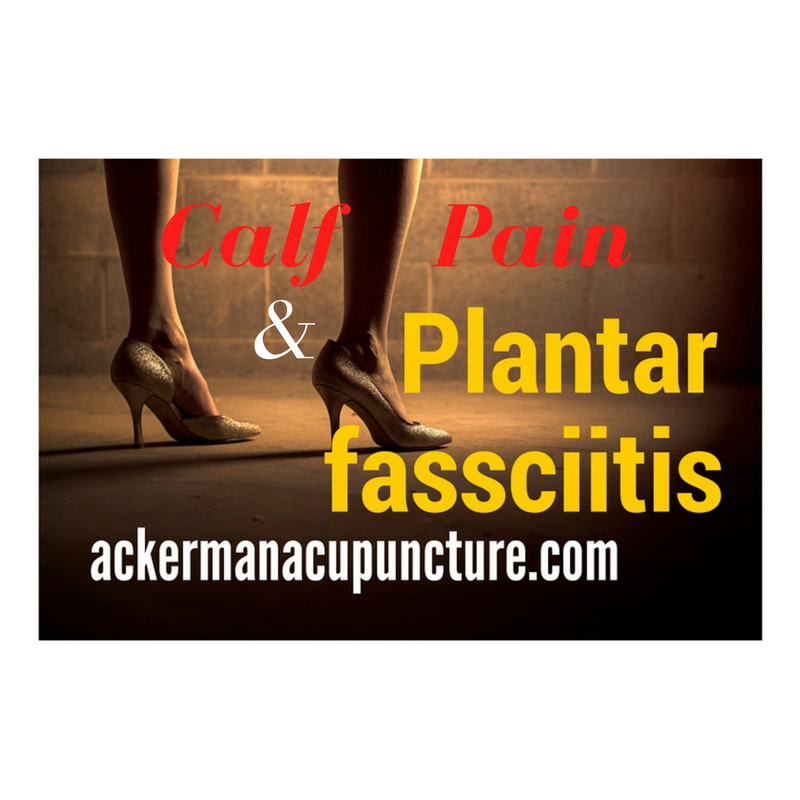 Calf Pain Worse with Standing or Walking?
Often pain in the legs, particularly in the calves occurs at work for people whose careers involve doing a lot of standing or walking all day. Leg pain is common in these careers:
Nurses
Factory workers
Restaurant workers
Construction workers
Cosmetologists (Hair/ Beauty salon)
Why Get Acupuncture?
Acupuncture can help stop calf pain before it spreads to the fascia in the plantar and becomes Plantar Fasciitis, an extremely painful issue. This pain can get in the way of working for many people.
PubMed Research Finds 80% Success Rate with Acupuncture for Plantar Fasciitis
Why Treat Calf and Foot Pain A.S.A.P.?
Left untreated, Plantar Fasciitis becomes chronic (long-term issue) which takes more acupuncture treatments to resolve.
Acute (short-term issue) Plantar Fasciitis usually takes no more than 3-4 acupuncture treatments to resolve.
What Does an Acupuncture Treatment Involve?
For Calf pain and/ or foot pain, acupuncture treatment will involve tiny acupuncture needles the size of a human hair.
It may also include electric stimulation (e-stim) which involves a machine being hooked-up to the inserted acupuncture needles, usually in the local area of the leg and/or foot and possibly other distal (further away) points.
E-stim is similar to an acupuncturist continuously stimulating the needle with their hand and serves the function of allowing multiple needles to be stimulated simultaneously, usually for about 20 minutes.
Mike Ackerman, LAc. treats many pain issues, including Sports Injuries, Back pain, Sciatica, Ankle pain, Headaches, Neck pain, Shoulder pain and Plantar Fasciitis near Blaine, MN.
Mike treats many other health issues, including Neuropathy, Chronic pain and other issues.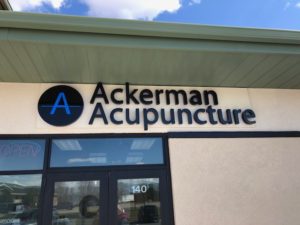 Contact us today to make an appointment to treat Plantar fasciitis with Mike Ackerman at Ackerman Acupuncture & Massage near Ham Lake, MN.
Visit Ackerman Acupuncture & Massage for Pain Relief & Wellness. Ackerman Acupuncture & Massage is easily accessible from Bunker Lake Boulevard near Andover, MN.
To see more blog posts like this visit: https://www.ackermanacupuncture.com/blog.html
Like us on Facebook to follow us and keep up-to-date on events.
Visit the website at https://www.ackermanacupuncture.com/
DISCLAIMER
This article is not intended to replace any health care.
No information on this site should be relied on to determine medical diagnosis or treatment for a medical condition. As with any health concerns, always be sure to consult your health care provider with any health concerns.
Licensed Acupuncturists Serving Andover, Anoka, Big Lake, Blaine, Champlin, Coon Rapids, Dayton, East Bethel, Elk River, Forest Lake, Fridley, Ham Lake, Isanti, Minneapolis, Now Then, Oak Grove, Maple Grove, Osseo, Saint Francis, Saint Paul, Spring Lake Park and Ramsey, MN 55303.
Zip codes we treat: 55304, 55303, 55309, 55014, 55025, 55434, 55449, 55316, 55433, 55448, 55327, 55330, 55432, 55040, 55401, 55402, 55403, 55404, 55406, 55407, 55408, 55409, 55410, 55411, 55412, 55413, 55416, 55418, 55419, 55421, 55422, 55011, 55311, 55369, 55102, 55103, 55104, 55105, 55106, 55107, 55108, 55101, 55109, 55110, 55111, 55113, 55114, 55116, 55117, 55120, 55124, 55125, 55115, 55118, 55119, 55121, 55122, 55123, 55126, 55129, 55130, 55146, 55127, 55128, 55133, 55144, 55145, 55155, 55164, 55165, 55166, 55166, 55168, 55170, 55175, 55187, 55188, 55171, 55172, 55014, 55025, 55371, 55398, 55308, 55960
Serving Anoka County, the north metro and Minneapolis area. We are located at 2331 108th Ln NE Blaine, MN 55449 and easily accessible from Highway 10.
https://www.ackermanacupuncture.com/wp-content/uploads/2015/07/woman-running.jpg
1155
1732
ackerman
https://www.ackermanacupuncture.com/wp-content/uploads/2019/12/Ackerman-Acupuncture-Massage-Logo.png
ackerman
2018-08-17 20:55:45
2020-01-15 10:50:44
Why Treat Calf Pain A.S.A.P. at Ackerman Acupuncture & Massage (in Blaine, MN)